Motorised outdoor louvred system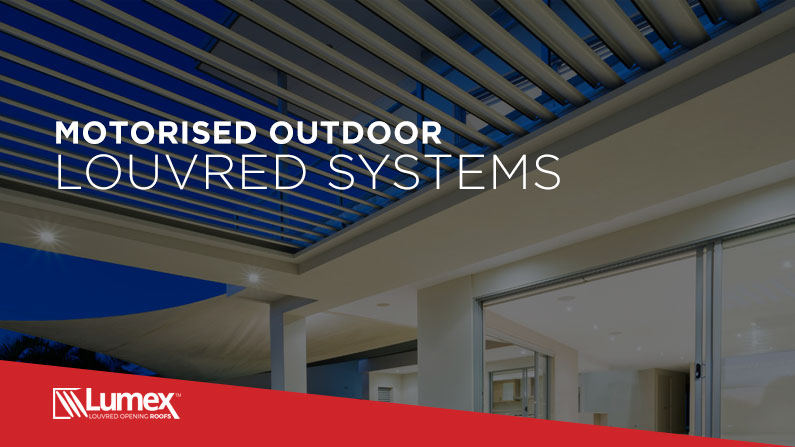 Lumex Opening Roof System
The ultimate outdoor louvred motorised shading solution with automated intelligence which allows the user to adapt their outdoor living environment for all 4 seasons. The Lumex sun shading solution will add value to the family home because it is versatile, functional, remote controlled, energy efficient, engineered for durability and reinforced with aluminium. Backed by a 10 year warranty, the aluminium blade design ensures rigidity and allows for larger spans for complete control over all the weather elements.
The Lumex Opening Roof system is compatible with wifi and is so easy to use that the pairing function allows the user to pair the solar sensor to the motor switch in just 3 simple steps. Additionally, the sensor has a programming magnet to configure the desired sensitivity to detect water drops and a heating function to avoid any false activation in case of condensation or ice.
Sensor inputs include a rain and temperature sensor. The benefit of having an automated sensor means smarter motorisation for easier user interaction, for example if the heat is greater than the pre-set for 2 minutes the awning will close and, after 30 seconds of rainfall the awning closes. This innovative opening roof system can be integrated with an automation system (ie Cbus) which is a growing luxury found in most modern homes.
MOTORISATION | CONTROL SYSTEM
The Lumex is easy to operate at the touch of a button (motorised or hand operable) as the aluminium louvres are adjustable via remote control and rotate up to 130 degrees. This dynamic system has a hidden motor, offers independent or simultaneous control of motor outputs, has a self-learning limit switch and operating times, is compatible with tubular motors with limit stop that can be programmed and comes with 4 pre-set tilt angles (open, closed and 2 intermediate positions).
The control system comes with a hand transmitter with wall fixing support, from 3-channels up to a whopping 42-channels which is ideal for multi-group commands. This means that the user is able to control the pergola slats (pre-set angles or manually set desired angle), lighting, heating, ventilation and the built-in 8 LED colour options. There is also an option via the App to set 'cycle activations', pre-set routine commands so that the opening roof system adjusts itself to suit individual needs.
The light fixtures used are very compact and have a galvanic surface treatment making them suitable for outdoor use, IP54 protection grade. These high efficiency lights deliver more than 380lm from a small emitting area with IP65 connectors for fast installation and are dimmable when controlled by a receiver.
Call us now for your consultation about this high-quality brand! 02 9624 0700