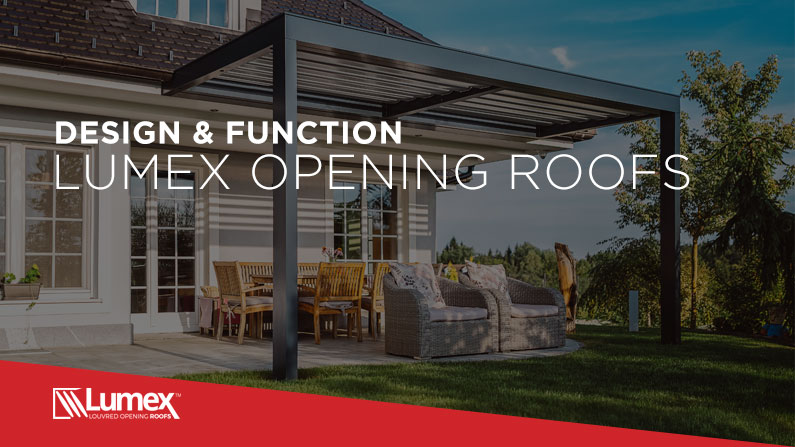 Did you know that two louvre blade types occupy the opening roof market? Colorbond is generally made with a foam core and is a 2 piece pressed blade. Aluminium is more robust likely to be powder coated.
Although the aluminium option tends to be dearer than the colobond option, aluminium has the following benefits:
Longevity and predicted life span
Greater blade style choices and the colour options are not limited
Wood grain options are available
Greater span options
Other benefits of Lumex:
The Lumex Opening Roof system is compatible with wifi and is easy to use that the pairing function allows the user to pair the solar sensor to the motor switch in just 3 simple steps. The sensor has a programming magnet to configure the desired sensitivity to detect water drops and a heating function to avoid any false activation in case of condensation or ice. Sensor inputs include a rain and temperature sensor. This innovative sun shading solution can also be integrated with an automation system (ie Cbus) which is a growing luxury found in most modern homes.
Easy to operate at the touch of a button (motorised or hand operable) as the aluminium louvres are adjustable via remote control and rotate up to 130 degrees. This dynamic system has a hidden motor, offers independent or simultaneous control of motor outputs, has a self-learning limit switch and operating times, is compatible with tubular motors with limit stop that can be programmed and comes with 4 pre-set tilt angles (open, closed and 2 intermediate positions).
The control system comes with a hand transmitter with wall fixing support, from 3-channels up to a whopping 42-channels which is ideal for multi-group commands. This means that the user is able to control the pergola louvres (pre-set angles or manually set desired angle), lighting, heating, ventilation and the built-in 8 LED colour options. There is also an option via the App to set 'cycle activations', pre-set routine commands so that the opening roof system adjusts itself to suit individual needs.
Call us now for your consultation about this high-quality brand! 02 9624 0700
CWSystems is a trusted wholesale supplier in blinds, shutters, and retractable screens. With locations in Sydney, Melbourne, and Brisbane, we proudly serve customers across Australia. As plantation shutter suppliers, we offer a wide range of high-quality options to suit any style or preference. Additionally, as a leading distributor of opening roofs and venetian blinds, we provide innovative solutions for both residential and commercial spaces.
With our extensive selection of external plantation shutters and wholesale retractable screens, we offer reliable products that enhance privacy and control natural light. Partner with CWSystems, and experience exceptional service, top-notch products, and prompt delivery. Contact us today to discuss your wholesale needs.